ENDURO SCHOOL AND ENDURO TRAINING DAY
OFF ROAD TRYOUT POWERED BY GAS GAS
Selected Weekend Enduro Schools and Thursday Enduro Training days.
From beginners to Expert level riders (Level 2 and above) some previous riding experience required.
Enduro Schools and Thursday Enduro training days run through the essential elements of enduro riding and technique to help you improve as a rider.
Whether you want to get more enjoyment from your riding at club level or shave seconds off special tests, we can help achieve your goals.
You decide! if you want training on Special tests or on the going.
You specify what you want help with.
Ruts, Bumps, Corners, Jumps..
You may have entered a Hard Enduro, ie Romaniacs! Spend time on our Super-Enduro track practicing Extreme obstacles, The Matrix, Tyre jumps, Log jumps, The Log pit and rock garden the choice is yours!
Choice of venues in sandy Suffolk in the East of England and rugged Wales!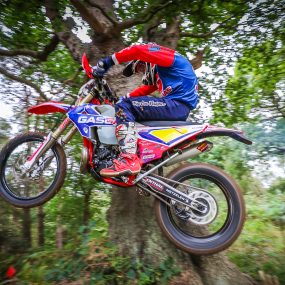 What does the day consist of:
Enduro School and Enduro Training
Enduro Training is a Day spent at our purpose built sand based Off Road Compound consisting of 4 Tracks: (unless Welsh Enduro Dates are in calendar)
Track 1. Beginners Trail Loop
Track 2. MX Track
Track 3. Enduro Loop
Track 4. Enduro Cross track
Whether your a trail rider or Enduro racer, Adventure bike or Rally raider, if its improving your Technique or special test times, Clearing the jumps or railing berms on the Moto Cross track. Feet up though the Rock garden or jumping over the tyres and logs on our Enduro Cross track we have all you need at the Enduro compound to help you get to the next level.
Cost
 
£100 Using your own bike, kit, fuel. Half day training Half day riding.
£200 Using our bike, kit, fuel.
When booking in complete the form appropriately so we know what specific training you require whether it's, Enduro, Mx, Enduro Cross, a mix of more than one and whether you already have some off road experience so we can tailor your day as best as possible.
Enduro Course Dates:
Thursdays Only or Selected Weekends on our Calendar
Call Us Today
0333 1300 399
07971447085

info@offroadtryout.com