ENDURO BOOTCAMP
OFF ROAD TRYOUT POWERED BY GAS GAS
Enduro Bootcamp (Level 1 and above)
Our Boot Camps are suitable for all levels of fitness and rider ability.
The focus is as much about improving your mental and physical approach to riding as it is about improving riding techniques.
You spend each of the two days riding in ability-based groups focusing on different disciplines with specialist instructor led sessions on our MX, Enduro and Enduro X tracks at a Private Enduro Compound in Suffolk.
Bike and kit hire is available on Enduro Bootcamps as well as Bicycle hire for Saturday morning warm up.
1 or 2 Day Enduro Boot Camp
Max 20 riders split into 3 Groups
Day 1 – 9am to 10am morning warm up Run or bicycle ride
(these off the bike activities only take place on saturday)
10am to 3pm is Enduro Training covering Enduro, MX, Super Enduro.
Day 2 – 10am to 3pm Riding all day in rider ability groups focusing on different disciplines as you change group and instructor and have sessions on our MX Track, Enduro Loop and Enduro X track at our Private venue The Enduro Compound Butley, Suffolk.
You don't have to take part in the off the bike activities on day 1 as our warm up jogs and bicycle rides happen before and after our permitted riding times so are not compulsory and don't impede on the time on the motorbikes, but we encourage everyone to take part in all BootCamp activities as its not difficult and everyone from all abilities have throughly enjoyed the day.
Please check out our video below!
Enduro Bootcamp use instructors who have competed at the highest level in their sport and hold skills specific to the nature of each of the 3 disciplines in this course
Trials – Enduro – Motocross 
Instructors past and present: Chris Hockey, Daryl Bolter, Brad Freeman, Tom Sagar, Mark Roberts, Lee Sealey, Rich Ely, Jake Nicholls, Paul Bolton and Many more skilled and passionate off road instructors and helpers..
Plus advice on Nutrition, Diet and Weekly exercise and training and schedules to ensure your in the best shape possible for your next racing season.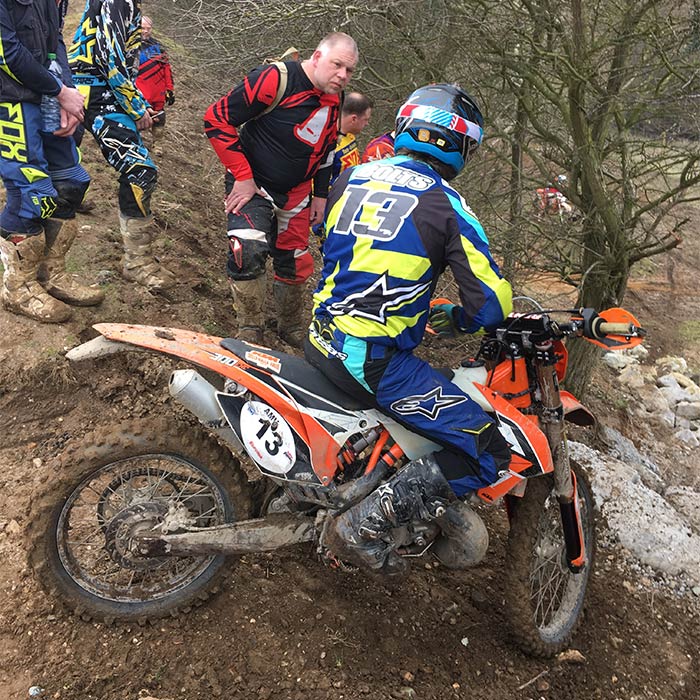 Call Us Today
0333 1300 399
07971447085
endurobootcamp@gmail.com