ENDURO BOOTCAMP
OFF ROAD TRYOUT POWERED BY GAS GAS
Enduro Bootcamp Our Boot Camps are suitable for all levels of fitness and rider ability. The focus is as much about improving your mental and physical approach to riding as it is about improving riding techniques.
You spend each of the two days riding in ability-based groups focusing on different disciplines with specialist instructor led sessions on our MX, Enduro and Enduro X tracks at a Private Enduro Compound in Suffolk.
It's up to you how you book in…
You don't have to take part in the off the bike activities on day 1, you can focus on basic Enduro skills with an instructor instead, but we encourage everyone to take part in BootCamp as its not difficult and everyone from all abilities have throughly enjoyed the day.
Please call if you unsure.
2 Day Boot Camp – All Ability levels.
Day 2 – Riding all day in rider ability groups focusing on different disciplines as you change group and instructor and have sessions on our MX Track. Enduro Loop and Enduro X track at a choice of venues in Sandy East Anglia, Hard Pack South and Wet! Wales.
2019 Dates
January 26th & 27th 2019
March 9th & 10th 2019
May 4th & 5th 2019
Enduro Bootcamp use instructors who have competed at the highest level in their sport and hold skills specific to the nature of our schools:
Instructors past and present: Chris Hockey, Daryl Bolter, Brad Freeman, Tom Sagar, Mark Roberts, Lee Sealey, Rich Ely, Jake Nicholls, Paul Boltona and Many more skilled and passionate off road instructors and helpers..
Not forgetting: Steve Potter.. Fitness coach of Chris Hockey, Jake Nicholls, Ben Townley
Plus advice on Nutrition, Diet and Weekly exercise and training and schedules to ensure your in the best shape possible for your next racing season.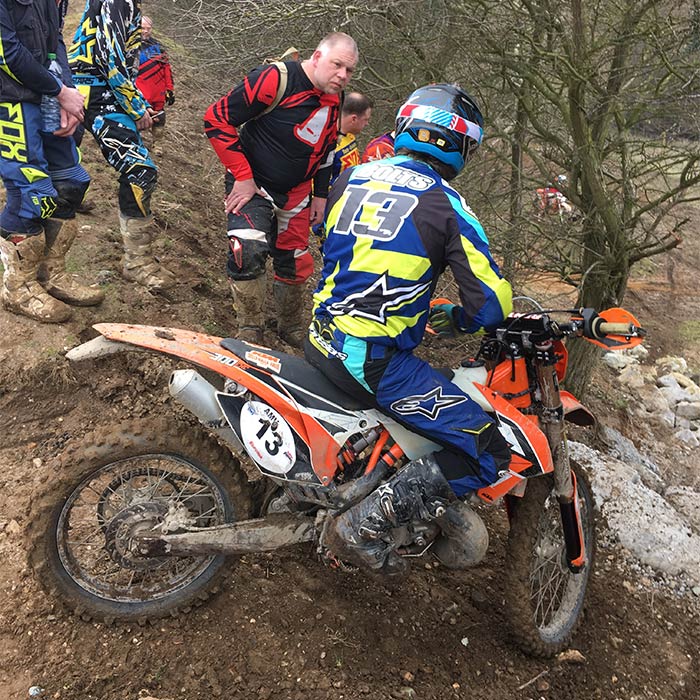 Call Us Today
0333 1300 399