NIPPERS ENDURO EXPERIENCE
OFF ROAD TRYOUT POWERED BY GAS GAS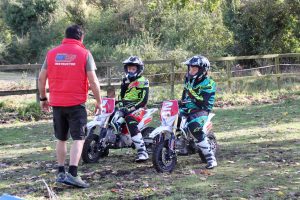 Nippers Enduro Experience Designed to suit boys and girls 4 to 10 years old, the Nippers School is all about giving the kids a chance to explore dirt bikes in a safe and fun environment.
It is aimed purely at helping kids enjoy a day's riding, grow their confidence and get them hooked. You can do this school on your bike or one of ours. Contact us for details on the bikes.
At our venue in Essex a small oval track will be used initially for riders to gain confidence on the bike and to learn key motorcycle skills such as:
Smooth throttle control and braking
Correct cornering and body position
Starting the bike and using the clutch (if geared)
Effective gear changing(if geared)
Once the rider and the instructor feel confident that the basic skills have been covered the rider will move on to a more challenging course with a variety of  turns and obstacles. Instruction is provided very much on an individual basis with the emphasis on safety and enjoyment. Then finishing off with a trail ride on our purpose built Nipper Enduro loop!
Friday February 17th
Saturday April 15th
Saturday June 17th
Saturday August 19th
Saturday October 14th
Saturday December 16th
Call Us Today
0333 1300 399