OFF ROAD TRYOUT
Welcome to Off Road Motorcycling
POWERED BY GAS GAS AND RIEJU 
Off Road Tryout Day  (Level 1 Course) Suitable for Beginners with No previous riding experience
Designed for those who want to tryout off road motorcycling for the day and don't own a bike or even protective clothing.
Our Try Out Days are designed to give you the basic skills needed to operate an off road motorcycle competently and above all safely.

This will also help you understand which bike will suit you best for your next step in off road riding whether it be Motocross, Enduro, Rally or Adventure riding.

With a relaxed and friendly environment for riding and as stress free as we can make it!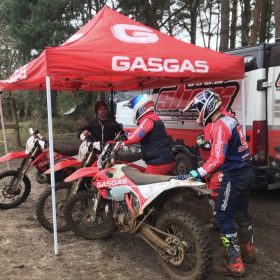 What does the day consist of:
1 Day Off Road Tryout Course
Off Road Tryout is a Day spent at our purpose built Off Road Training facility consisting of:
Track 1. Beginners Trail Loop
Track 2. MX Track
Track 3. Enduro Loop
Track 4. Enduro Cross track
Beginners will first spend time on our flat training area covering the basics.
Chris or one of his instructors will watch carefully as you ride around and step by step go through all the fundimental elements of Off Road Motorcycling with you.
Smooth throttle control
Braking control
Correct cornering
Sitting and standing position
Balance and weighting the bike
Clutch control (if geared)
Effective gear changing (if geared)
Cost
£100  Using your own bike, kit, fuel. Half day training / half day riding.
£200 Using our bike, kit, fuel. Half day training / half day riding.
When booking in complete the form appropriately letting us know whether your first timers or already have some experience of riding any sort of bike so we can taylor your day as best as possible.
We cater for everyone from learning how to ride a Motorcycle for the first time to Improving your skills. Whether it's Motocross, Enduro, trail riding  or  adventure bike and rally riding your wanting to learn.
For regular riders that have there own bikes go to our "Enduro Training Day" Page.
This course is a bit more advanced than an "Off Road Tryout Day"
Here you will learn about more advanced Techniques.
Note: For 2 Day Courses Please check out our 2 Day Enduro Schools and Enduro Bootcamps.
Call Us Today
0333 1300 399
07971 447085
info@offroadtryout.com